Hubbell offers three distinct brands of underground enclosures. All three are built with the same attention to quality and performance that you know and expect from Hubbell. Each brand is made of a different base material.
Their comprehensive product offering is tailored to ensure that your application requirements are met, no matter what. Based on your design style preference, Hubbell offers Quazite monolithic polymer concrete, Quazite® FRP fiberglass-reinforced polymer and PenCell HDPE enclosure products.
All three brands offer superior performance and unique benefits.
Quazite® Enclosures
Polymer concrete is made from select-grade aggregates in combination with a polymer resin system. When combined through a process of mixing, molding and curing, an extremely powerful cross-linked bond is formed. Precast polymer concrete is reinforced with fiberglass to give it additional strength and rigidity.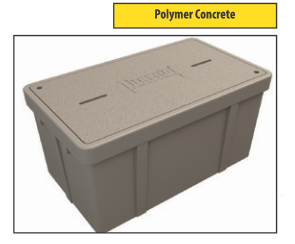 Quazite® FRP Enclosures
Fiberglass-reinforced polymer, also called FRP, is a special combination of polymer concrete and fiber-reinforced polymer. This hybrid construction, formed from an FRP shell and a polymer concrete ring and cover, delivers a high strength, lightweight, abrasion-resistant product that is protected from ultraviolet rays.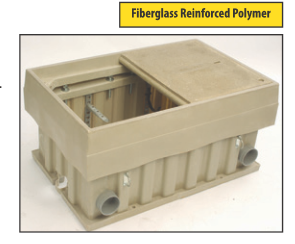 PenCell® Enclosures
Structural foam molded high density polyethelyne, also called HDPE, is a light weight, high strength plastic molding process that provides outstanding structural integrity and durability.
HDPE enclosures are mated with covers made from a variety of materials: HDPE, polymer concrete or steel. This combination creates a highly versatile choice for underground utility enclosures where low weight and high strength are necessary.
All load ratings are not the same
All Hubbell enclosures include load ratings either as a specified design load, or as a "Tier" Rating that designates the achievement of a particular ANSI load rating level. Most Hubbell enclosures use the ANSI Tier rating system. However, some of the PenCell enclosures use the "K" Rating system.
More information on both of these ratings can be found in this catalog. Read The Full Catalog Here